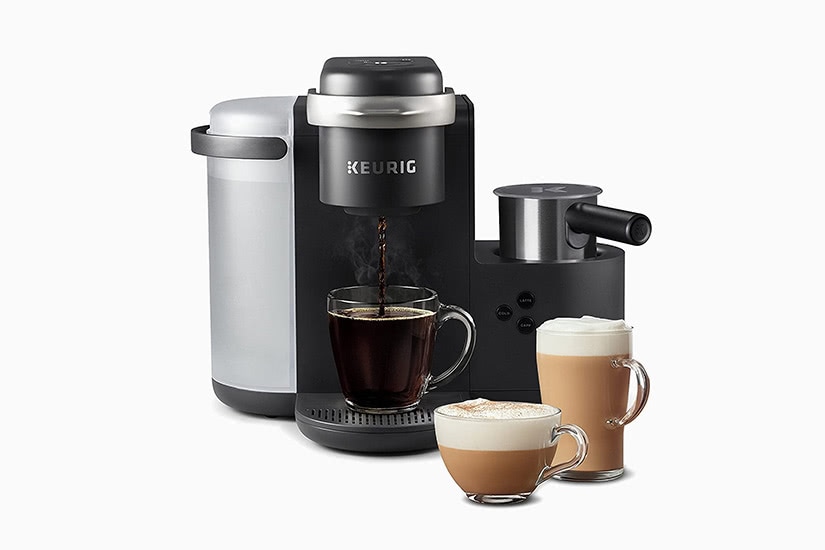 If you want nothing but the best for your coffee, then high-end coffee maker brand Keurig's K-Cafe is for you.
Stylish without being overbearing, and boasting a whole bunch of features that make life simpler, it really is a better machine.
'Life-simplification?' You might ask skeptically, 'But don't all coffee makers do this?'. While they all do to some degree, Keurig K-Cafe Coffee Maker goes a step further.
The machine works with any K-cup pod for making coffee or making hot or iced lattes and cappuccinos. It is very easy to use with its Smart Start features that heats up in a single step. Just one press of a button to do it all. No need to wait by the coffee machine.
It is also an eclectic brewer. You can make up to six cups before refilling the removable reservoir.
Oh, and if you're staying high up in the mountain, don't worry, the Keurig K-Cafe Coffee Maker has a high-altitude setting to continue brewing at peak performance at up to 5,000 feet above sea level.
In keeping with this cornucopia of specialties, the Keurig K-Café Coffee Maker is our pick for the best premium coffee maker spot of the year.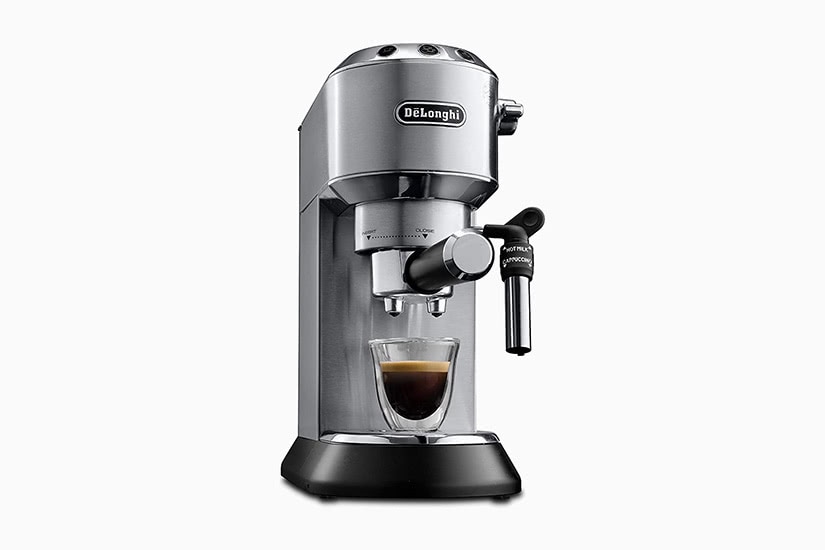 When it comes to value, the De'Longhi Dedica Style Coffee Maker scores highly on our list. If you prefer to be more involved in your coffee making, you can be your favorite barista with many specialties.
The 15-bar pressure allows for a rich, creamy crema that is synonymous with good coffee (as well as being the ideal base for latte art). The attached Milk Frother enables you to make lattes, cappuccinos, and everything in between so you can enjoy authentic barista-style coffee at home.
Additionally, it's super-slim at a tiny 15cm, so finding space won't be a problem. With ubiquitous self-cleaning technology, Dedica attempts to cover all bases.
Providing you with everything you need to craft a professional-looking flat white, we've selected the D'Longhi Dedica Style as the best value coffee maker.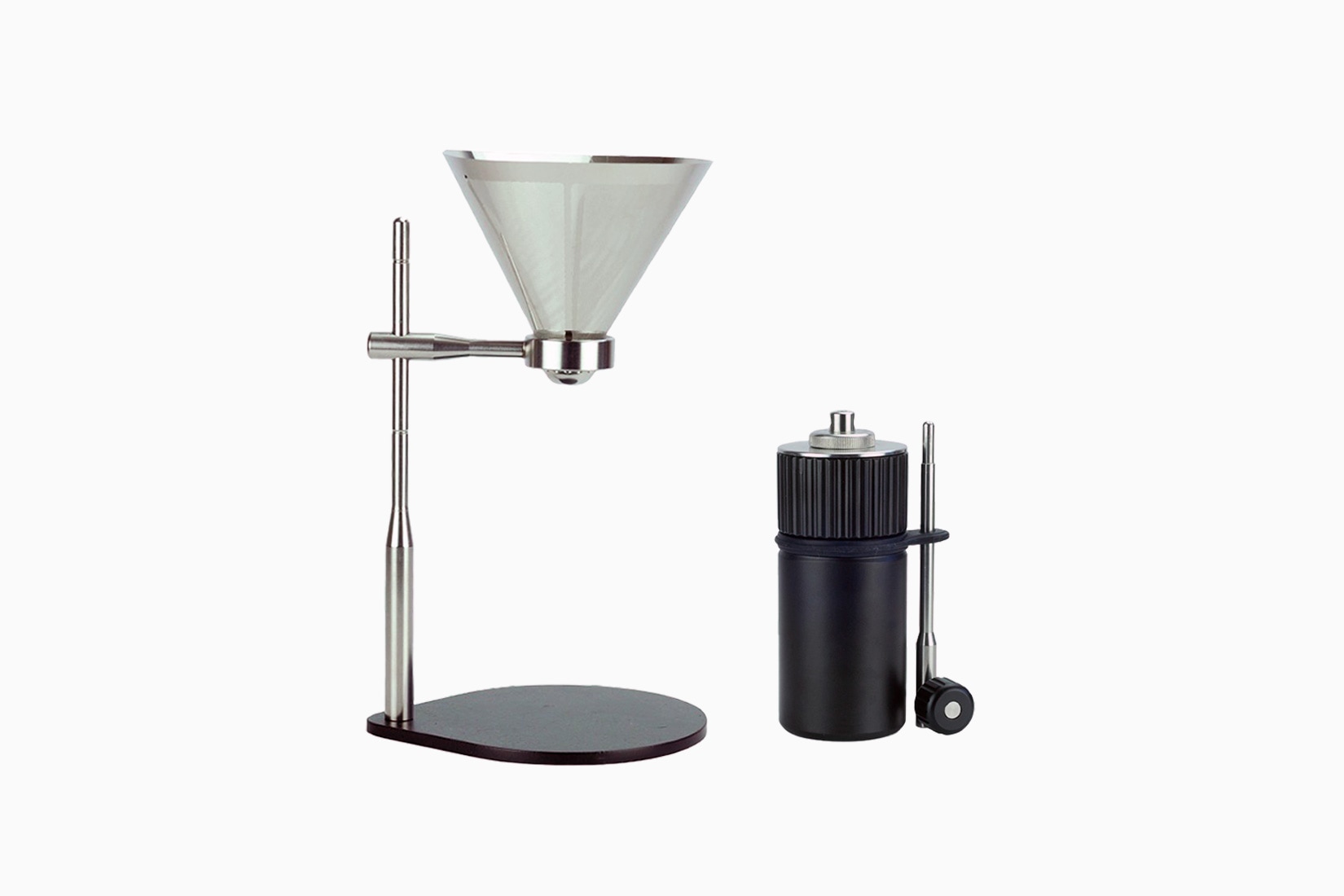 Sometimes in this busy world, we just want simplicity. The Precision Pour-Over Coffee Stand and the accompanying coffee grinder by Minimal is the perfect combination of style and simplicity.
Although there are plenty of minimalist-ish coffee makers on the market, the minimalist set breaks the mold with its pure, elegant design. Not out of place in the offices of Silicon Valley tech start-ups, it'll also add fresh modernity to your kitchen.
The stainless steel pour-over stand is easy to assemble and clean. The revolutionary filter system design ensures every cup is properly brewed. The coffee grinder is beautiful and feels solid in the hand.
The complete set is made entirely with stainless steel and durable aluminum. You won't find any plastic here.
The Minimal seriously impressed us with their attention to detail, super-chic design, and ease of use and cleaning. Therefore, we've rated the pour-over stand and grinder as the best minimalist coffee maker on the market this year.
Exclusive Offer: Lux Digital readers enjoy 20% off when they shop at Minimal. Use code COFFEE20 at checkout.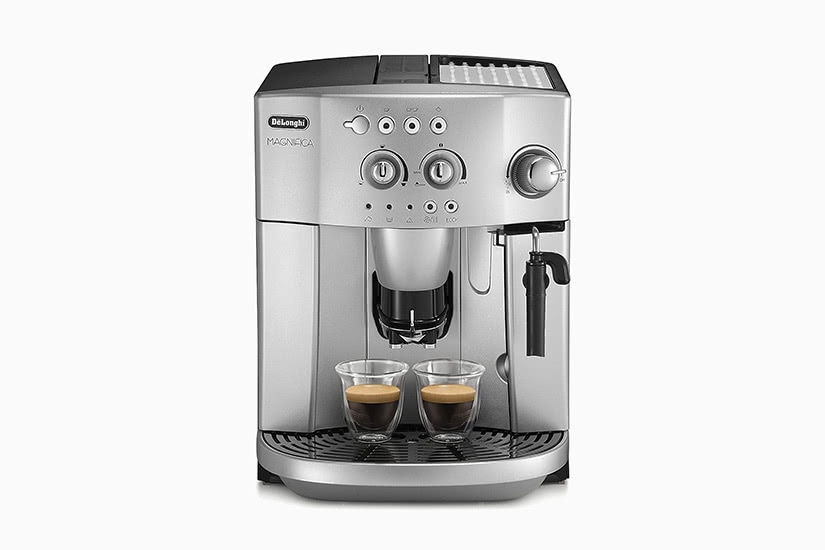 Thought making cappuccino at home was the equivalent of solving world hunger? think again. With the Magnifica Automatic Bean-to-Cup Coffee Machine by De'Longhi, you can foam your milk however you like. dry cappuccino? There is no problem. flat white? What happened. do not care? That's fine too!
This elegant model could be the new coffee machine you've been dreaming of. It has seven grind settings to ensure perfect extraction and even cleans automatically.
This is a great option if you like an attractive appearance, a variety of options, and complete control over your cup. With all those great features, it should come as no surprise that it is the most popular.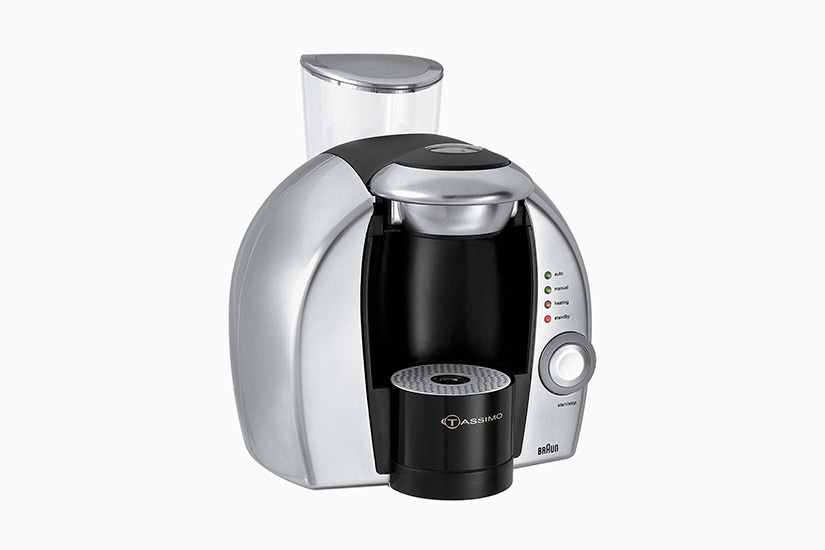 Despite retailing at less than $100, the Braun Tassimo Coffee Maker doesn't cut any corners. With Tassimo INTELLIBREW technology, it has the capacity to make 40 different drinks. As they say, variety is the spice of life!
The auto-clean feature between each use prevents any unwanted flavor mixing, and built-in water filtration ensures optimum purity. Filtration has two-fold benefits: Purified water maximizes flavor and minimizes limescale, which in turn helps maintain your machine.
Personalizable settings enable you to choose your desired strength, size, and intensity so you can really have it 'your way'.
Thanks to its wide variety of features and settings, we've selected the Braun Tassimo My Way as the best coffee maker under $100.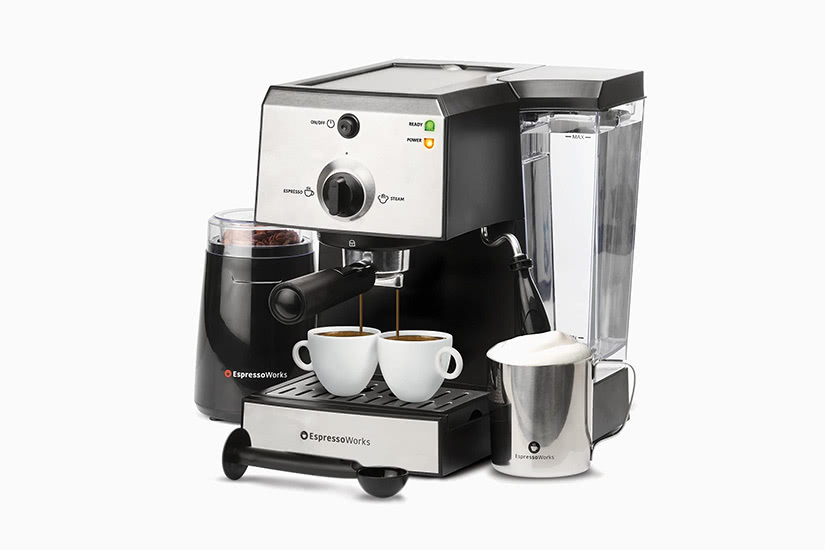 Is there anything more pleasing than the aroma of freshly ground coffee beans? While pods are convenient, they certainly don't engage the senses quite as delightfully as the coffee bean. The EspressoWorks 7 is truly an 'all-in-one', and the closer you get to a cafe-grade coffee maker.
Complete with an adjustable grinder, milk-frother, milk jug, and all neatly packaged in one compact machine, the EspressoWorks 7 does it all.
In fact, the great thing about grind-and-brew on pods is that you can experiment with different types of beans (and there are many more) and find the perfect mix for you. Dive into the aromatic world of single-origin beans and expertly crafted blends from the best coffee producers around the world.
Therefore, because of its variety of features and attention to detail, we have rated the EspressoWorks 7 as the best grind and brew coffee maker on the market in 2020.
Pro tip: Colombia, Guatemala, and Ethiopia are generally considered the highest nations for coffee beans, thanks to their fertile soil and warm tropical climate.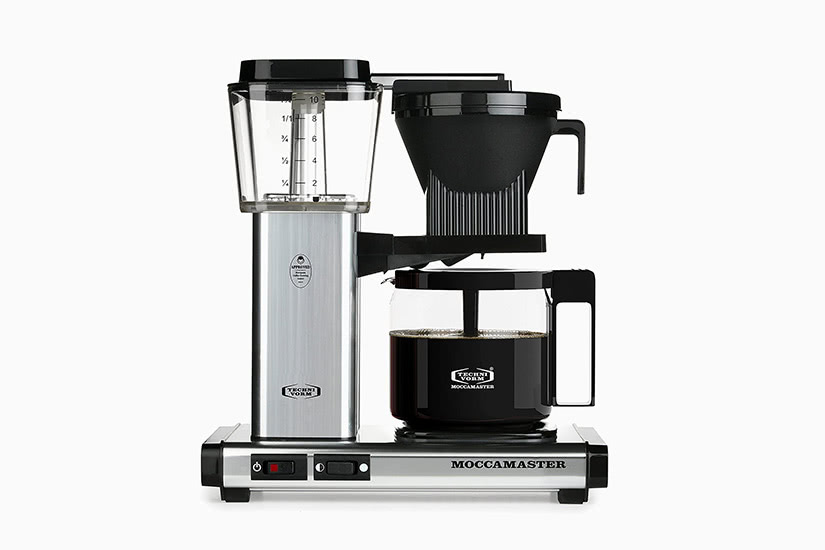 Drip coffee is like a cooler, the more understated little sister of more complex grind-and-brew machines. This drip coffee maker from Moccamaster KBG Coffee Brewer has tons of useful features to help you make great coffee every time.
One of our favorite features of this model is that it has an automatic drip-stop brew-basket that stops the flow of coffee when the carafe is pulled. Plus, you can adjust the hot plate from 80 to 85 degrees so you can enjoy your coffee at your preferred temperature. Nifty.
You can make a brew in a one-liter coffee pot in just six minutes. They promise a 'unique hot plate' that rolls up the heat, ensuring each cup has a similar flavor (if you've ever had the misfortune of that last cup of drip coffee carafe, you'll understand. ).
For these reasons, we've rated the KBG Coffee Brewer as one of the best drip coffee makers.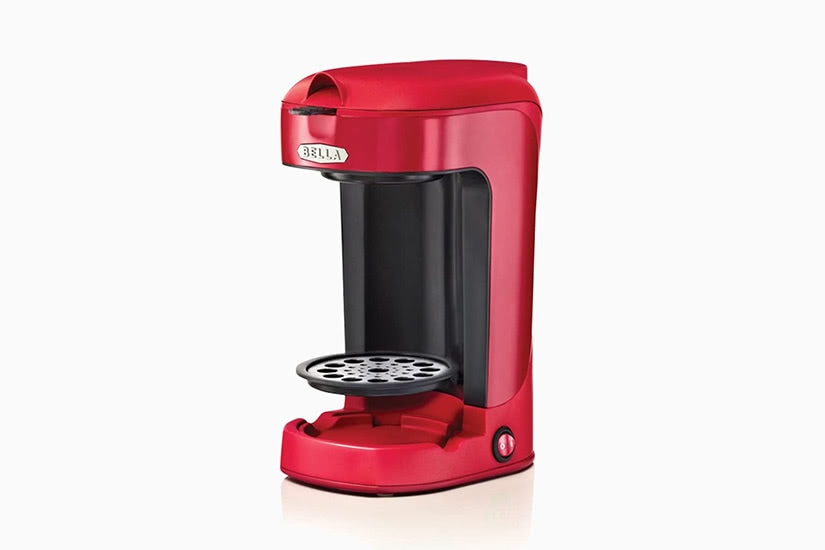 Scoop One Cup, Coffee Maker. The one-touch powered single-serve coffee maker includes a reusable permanent filter—a handy feature we've come to expect from any worthy coffee machine.
In addition to being space-saving and energy-efficient, the adjustable drip tray means this neat little machine can make more than just coffee. Quick-brewing technology allows you to enjoy tea, coffee, or anything that requires hot water in seconds.
Bella's entire philosophy is simplifying your kitchen needs, and their useful single-serve coffee maker certainly hits the nail on the head.
Therefore, the combination of attractive design and straightforward use means that the Bella One Scoop One Cup Coffee Maker deserves our rating as the best single-serve coffee maker on the market.