Soap is an integral part of every Indian household. Everyone loves to invest in some self-care to look radiant and look their best naturally. Listed here are the best soaps for women in India. These soaps are made with unique ingredients that are meant to keep the soft skin of women more supple and nourished. The list includes some of the best soaps that leave a woman looking radiant and glowing, and keep her skin nourished. Women love their skin to be glowing and soft and moisturized. These days soaps offer many benefits, from the best soaps for oily skin to the best soaps for skin whitening, and everything is covered. Women do not use soap on their face but they can use some of the best soap for women's faces and look their best with the use of soap too.
Getting good skin is very easy if you incorporate some good, basic products into your routine and the foundation of good skin care is good to bath products. Here is your guide to the best bath soaps for women in India,
How Do We Choose the Best Soaps for You?
Choosing the right soap can work wonders for your skin. If you are looking for the best soaps in India, today we are going to tell you about them all. But, before we move on to that part, here are some factors that we considered before making this list.
1. Skin Type
The three main skin types are dry, normal, and oily. If you have dry or normal skin then cream-based soaps can be very beneficial for you. At the same time, those with oily skin should use gel-based soap.
2. Material
You can look for common and beneficial ingredients like glycerin, natural oils, natural butter, essential oils, or anti-bacterial ingredients. Make sure your soap works for your skin type.
3. Chemical Materials
Parabens, sulfates, and preservatives are harmful to the skin. Try using more natural products with herbal ingredients or vitamins.
10 Best Soaps For Women In India
Widely considered to be one of the best soaps in India, Dove Bathing Bars are a cult favorite. It is suitable for normal to dry skin as it moisturizes your skin from within.
Dove Sensitive Skin Soap will not strip your skin of its natural moisture. Instead, it will ensure that your skin remains smooth and supple after your shower.
The moisturizing cream present in the soap gets absorbed into your skin so it does not make it dry. A top bath soap in India has gentle cleansers that clean your skin thoroughly. One of the best soaps for women with moisturizing properties, it is suitable for dry skin and keeps skin silky smooth.
The pH neutral mild surfactant system makes Dove safe for all skin types.
Pros:
gentle on the skin
does not dry out the skin
Leaves skin soft and smooth
One of the best soaps for women in India
Shortcoming:
May not suit oily skin
Pear is one of the most reputed soap brands India has ever produced. Pears Gentle Bath Bar is one of the best soaps in India and has been one of the bestsellers. Formulated to provide 98% pure glycerin to the skin, this transparent soap is extremely mild on the skin.
It preserves the beauty and youth of your skin. With 30 times the amount of moisturizer in regular soap, it is one of the best soaps for women as it helps in depositing the glycerin into the deeper layers of the skin so that it stays hydrated for a long time after your shower.
The gentle cleansers present in the soap help in maintaining the pH balance of the skin. The goodness of glycerin and natural oils help to keep the skin supple and supple. One of the best soaps for dry skin of women, this is a must-have for dry skin beauties.
Pros:
moisturizes the skin
locks in moisture
Makes skin more youthful
One of the best moisturizing soaps in India
Shortcoming:
May not suit very oily skin
Biotique Naturals does a great job in making soap. This is one of the best soaps for women in India as the formulation is essentially herbal.
It also works well for sensitive skin as it lacks harsh chemicals. The revitalizing soap contains the goodness of pure orange oil and orange zest.
Oranges have traditionally been known to clear and brighten the skin due to their high content of vitamin C. The soap is also enriched with musk root, walnut, margosa, and turmeric. Though there are many soaps in India, but when it comes to using advanced Ayurveda for soap making, Biotique definitely takes a huge edge over the competition. So if you are looking for soaps with Ayurvedic properties, Biotique soap is one of the best soaps for women in India.
Pros:
gently cleanses the skin
balance skin pH
Keeps skin glowing
One of the best soaps for women
Shortcoming:
May not suit very dry skin
One of the best soaps for women, this Fiama soap bar will revolutionize your bathing experience. The soap is hand-crafted with the help of ITC's liquid freezing technology.
This means that the soap has a really gel-like texture, but it feels solid during application. Combines the goodness of natural extracts like seaweed and lemongrass.
Enriched with skin conditioners, the soap will give you soft and youthful skin without wasting time. Your skin will feel moisturized and hydrated throughout the day.
Pros:
moisturizing
pleasant aroma
Makes skin smooth and supple
One of the best soaps for women
Shortcoming:
can melt easily
Himalaya makes some of the best soaps in India. Natural and herbal in nature, these soaps help to protect the skin. It is one of the best soaps for oily skin as it soothes the skin.
It produces a cooling effect that will leave you feeling refreshed and refreshed. The soap is formulated to leave you with smooth and soft skin.
It is also effective in cleaning dirt and impurities from your skin due to its anti-bacterial properties.
Pros:
Refreshes and regenerates the skin
has a soothing effect
made from natural ingredients
Shortcoming:
May not suit very dry skin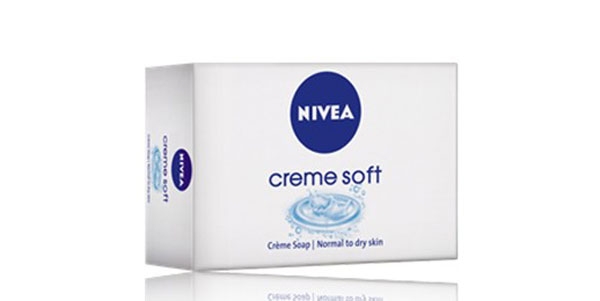 NIVEA soaps are effective at cleansing without drying out the skin, and they're enriched with glycerin to protect your skin's moisture. You can apply this soap for effective cleaning of hands and body without losing the natural moisture of the skin. You can buy Nivea soap online for ₹90.
what we like
It is one of the oldest skincare brands in India. Soaps are very mild in nature and do not harm the skin. It replenishes the moisture of the skin.
Key Features of Santoor Chandan and Turmeric Bath Soap:
Infused with sandalwood and turmeric to give your skin a natural glow
Makes our skin blemish-free and clear
Turmeric has antiseptic properties
Each bar weighs 125 grams
Pros:
Suitable for all skin types
natural ingredients
Creates a rich foam
Shortcoming:
Fragrance can be a bit overwhelming for some people
Key Features of Lux International Creamy Perfection Soap Bar:
Blended with Swiss moisturizer to leave your skin soft and supple
Foams incredibly well to get rid of any dirt and impurities
Has a rich and creamy fragrance
Each bar weighs 125 grams
Pros:
world-class fragrance
creamy foam
gentle on the skin
Shortcoming:
can cause some dryness
Why did we choose Lux International Creamy Perfection Soap Bar?
Luxe International Creamy Perfection Soap Bar gives you the glow you've always wanted. This luxurious soap is formulated in a soft and creamy formula to leave your skin delighted with the scent of white flowers. Enriched with Swizz Moisturizer, this scented soap bar is bound to give you a relaxing experience while taking a shower. It also promises to bring out your extraordinary side all day, every day.
Key Features of Dettol Original Soap:
Germ protection soap kills 99.9% of disease-causing germs
Contains natural ingredients and glycerin to keep skin soft
There are also plant-based cleansers
Each bar weighs 125 grams
Pros:
keeps germs away
makes you feel refreshed and refreshed
cleans the skin properly
Shortcoming:
Some people may not like the smell
Why did we choose Dettol Original Soap?
This gentle soap works as an antibacterial agent that fights invisible germs to protect and clean your skin. With a refreshing fragrance, it leaves your skin feeling strongly rejuvenated.
Key Features of Cinthol Lime Bar Soap:
Infused with the flavor of fresh lemon, this soap is the perfect way to start your day
Foam thoroughly to get rid of dust, dirt, and germs from the skin
Provides 99.9% germ protection
Weight of each bar 100 grams
Pros:
Revitalizing Fragrance
no soap residue
Comes in many fragrance forms
Last word
It is essential to use the right soap to ensure that your skin gets the necessary nourishment and cleansing. While our favorite soaps are from Dove, Fiama Di Wills, Nivea, and Lux, check out this list to find out some of the best soaps in India.
Questions to ask
What should be the pH value of bath soap?
The pH of bath soap should be between 9-10. However, most shampoos have a pH level between 6-7.
What does TFM stand for in soap?
TFM is considered a quality factor in soap manufacturing. The higher the TFM content in the soap, the better it's quality. According to the Bureau of Indian Standards, the best bath soaps should have a minimum TFM of 76 percent.
Which are the grade 1 soaps in India?
Here are some grade 1 soap – Mysore Sandals – 80, Doy Care – 80, Cinthol – 79, Johnson Baby Soap – 78, Yardley London – 78, Nivea Soap – 78, Superia Silk – 76, Park Avenue Scented Soap – 76, Amway Pesona Soap – 76 and Godrej Fair Glow – 76
Why Trust Good Look Book Reviews?
The Good Look Book has a team of well-trained researchers who understand what makes a product better before adding it to our list. In this blog, we have considered several factors such as skin type, pH level, ingredients, and chemical content to ensure that we only provide you with the best product suggestions in the market.