For most of us, the kitchen is an innovative workshop where we try to create some finger-licking recipes to keep our loved ones well nourished. However, such a wonderful cooking process leaves some unwanted by-products, such as odor, oil, smoke, and moisture. Having the right ventilation will help control airborne droplets and neutralize the pungent smell of garlic, onions, and spices used in cooking. One of the major decisions you should make in order to keep your kitchen ventilated is to buy the right type of exhaust fan.
A kitchen exhaust fan dissipates heat from the room by circulating fresh air through its ducting system, removing unpleasant odors and grime. If you are planning to upgrade your kitchen by investing in a good quality exhaust fan, we have compiled a list of the 10 best kitchen exhaust fans in the Indian market along with potential information on each to help you find the best one. will gain help in.
Top 10 Kitchen Exhaust Fans In India For India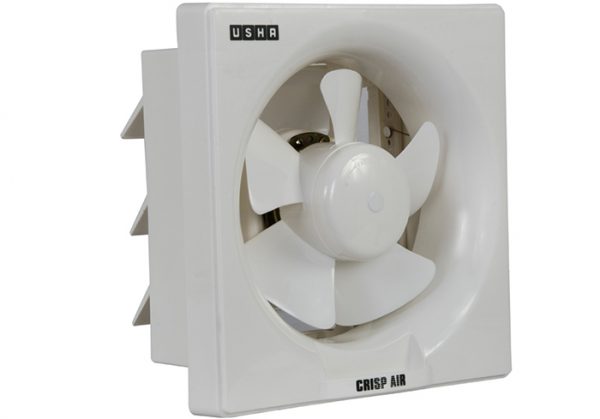 Usha, the renowned brand is known to offer a range of exhaust fans with superior features to keep the Indian kitchen clean and free of smoke and odors. The Usha Crisp Air range of exhaust fans is designed with sturdy materials and has an impressive sweep size to remove heavy air droplets along with fat particles while circulating fresh air inside.
Top Features
Black in color has a lightweight body with a sleek design.
It works with 40 W power and can rotate at 1250 pm.
The sturdy blade and body are crafted from rust-resistant materials.
Designed to have the whisper-quiet operation.
Comes with an amazing sweep size of 200mm.
It has automatic shutter louvers at the rear for safety and security.
Price: Rs. 1380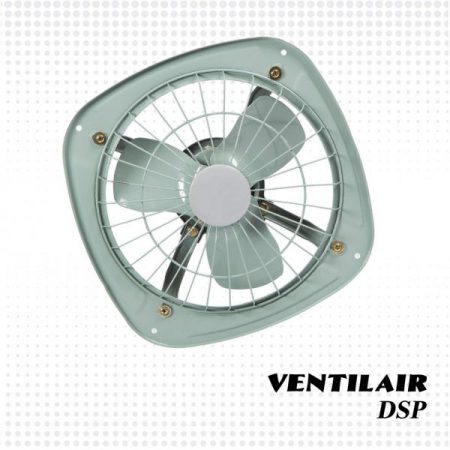 Havells Ventilair Exhaust Fan comes with a high-grade metal body and blades to deliver maximum performance. This kitchen appliance comes with a minimum air delivery speed of up to 700 cubic meters per minute to drive away bad odors. With 230mm dimensions, the aerodynamically balanced blades rotate evenly for better air circulation.
Top Features
Sturdy powder-coated body with a metallic finish in pistachio green shade.
The bird protector with metal spikes on the back prevents birds from flying in.
Well-conditioned fan blades perform with 230mm sweep size to support 510cmh airflow at 1350rpm.
Noiseless operation at 40 – 50 dB.
Price: Rs. 1620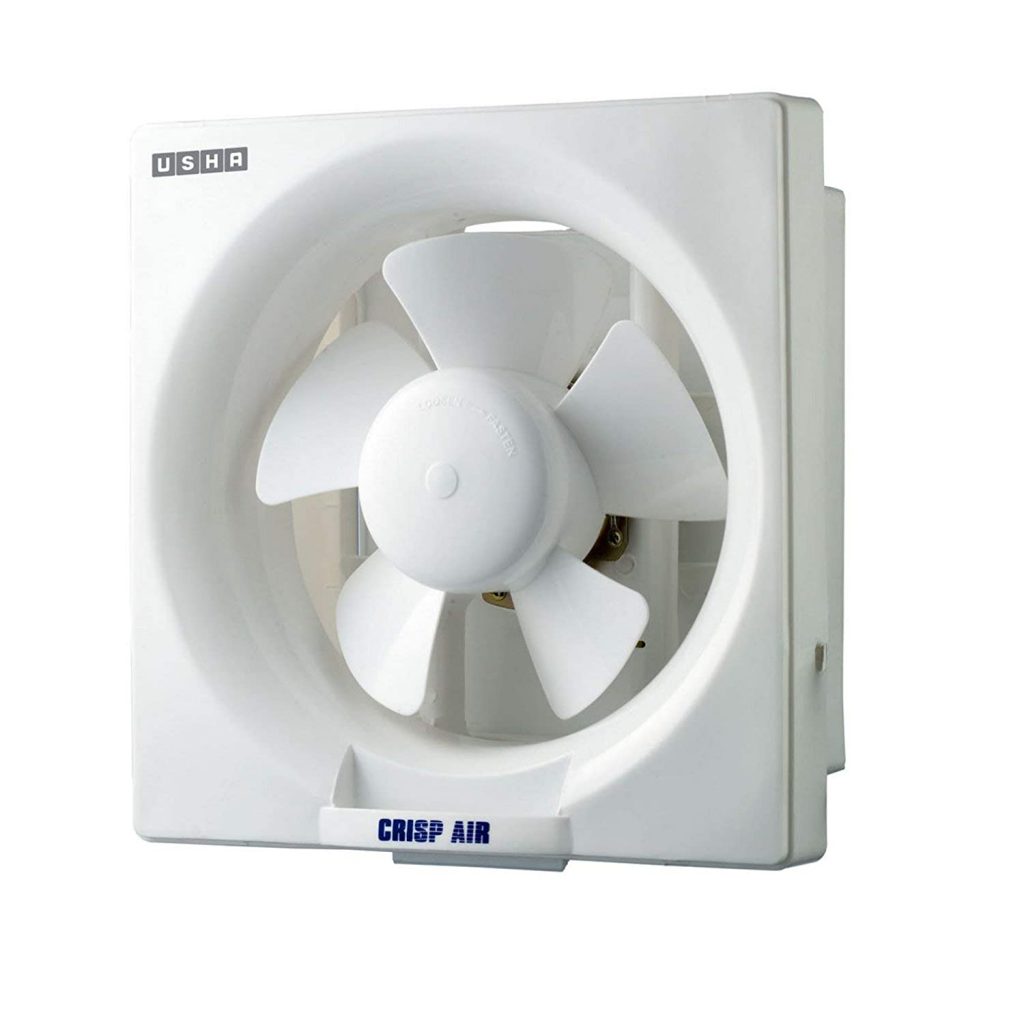 Offered by the leading brand, Usha, the Crisp Air range of exhaust fans is known for its excellent air sweep rate and robust construction to ensure long-lasting service. This kitchen exhaust fan from the Crisp Air series comes in elegant white color and is designed to consume a very low amount of power, just 40 Watts while assuring the best of service. It fits perfectly on the 7-inch window frame.
Top Features
Comes with an automatic shutter for better safety and security.
Blade with a sturdy body and corrosion-resistant design.
Removes foul-smelling air from inside the kitchen with a sweep rate of 200 mm.
noiseless operation
Price: Rs. 1380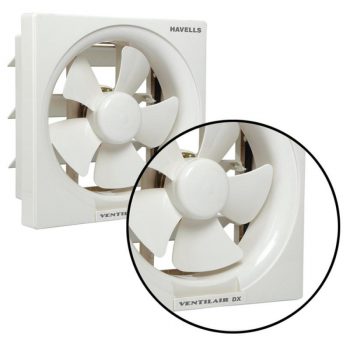 Havells Exhaust Fan comes with 5 blade design and body which provides the highest airflow with the lowest noise during operation. It has a removable oil collection tray for easy cleaning. The powerful motor of this exhaust fan has an internal fuse to protect it from power surges.
Top Features
This product is crafted from strong abrasion-resistant engineering plastics with good impact for easy maintenance.
Performs with a speed of 1350 rpm to maintain an air delivery rate of 520 CMH.
Its lightweight body makes it perfect for mounting on glass windows.
Gravity shutter to improve longevity.
Price: Rs. 1845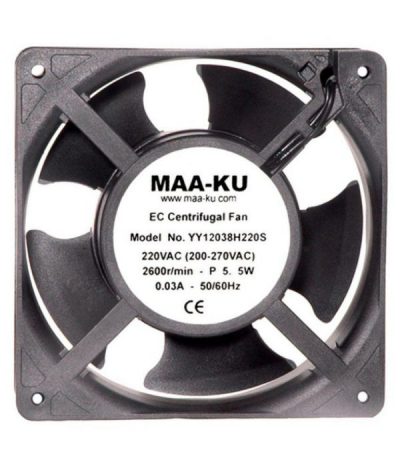 This exhaust fan from the brand Ma-Ku has been designed in a compact fashion to fit small kitchen rooms, measuring 8 X 8 X 8 ft. It has a sophisticated design in glossy black color and measures 6.75 inches in length and width. This exhaust fan is specially designed to perform as a cooling fan to keep the kitchen cool and comfortable.
Top Features
It is crafted from aluminum die-cast material with a high-quality coating to provide durable service.
Operates with 35 watts of power and has sleeve bearings for superior performance.
Made with superior quality plastic fan blades.
Operates with a low noise level of 45 dB.
Reliable motor performs with 2500 rpm.
Price: Rs. 2500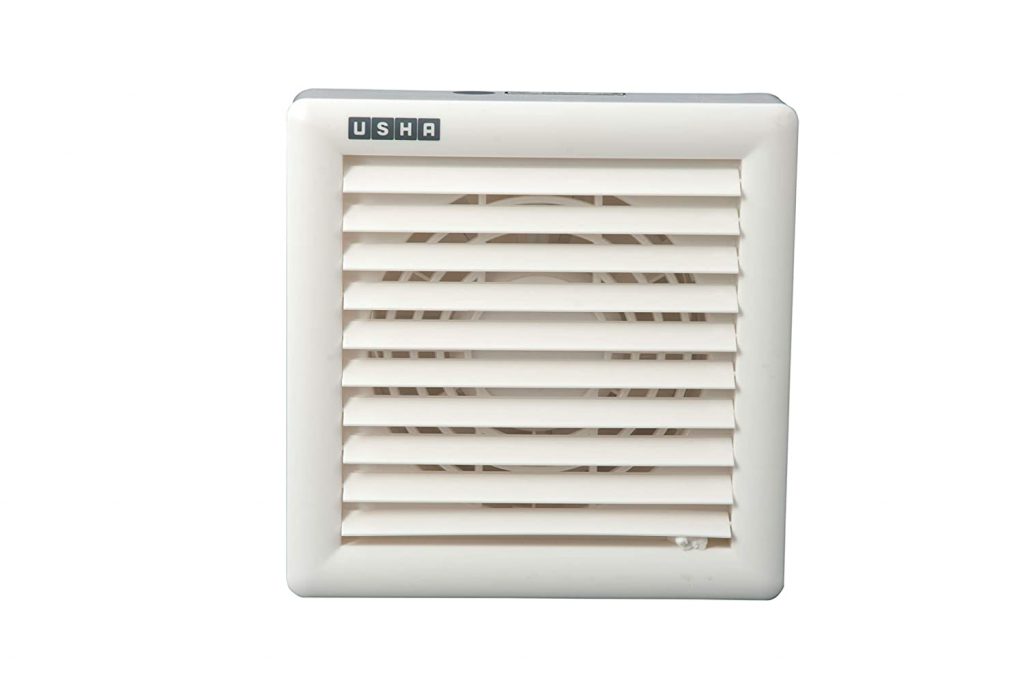 The Usha Crisp Air Premia exhaust fan is the right choice to get rid of the fumes, odor, and moisture in your kitchen. It looks elegant in chic white shade and can be mounted on glass windows easily. This exhaust fan is the best choice for kitchens and bathrooms, as it comes with 6 X 6-inch dimensions.
Top Features
Comes with rustproof blades and a body with a lightweight design.
Noiseless quiet operation with 150 mm sweep size.
Robust motor with shaded pole design to last long.
Designed with an automatic shutter in front.
Price: Rs. 1180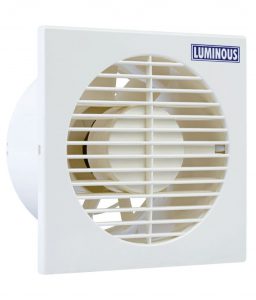 The Luminous brand Vento Axial Exhaust Fan is designed in white color with a sleek look to enable smooth operation in a noiseless fashion, making it a perfect choice for conference rooms, AC cabins, and kitchens. It has an easily mountable design measuring 7 X 4 X 7 inches to save installation space in small rooms.
Top Features
Works with 5 blades in premium plastic.
It has a blade size of 150mm to sweep the air at a high rate.
Its powerful motor with circular guard has a working speed of 2000 rpm.
Uses 22 watts of power.
It has a 240 CMH air delivery rate.
Price: Rs.999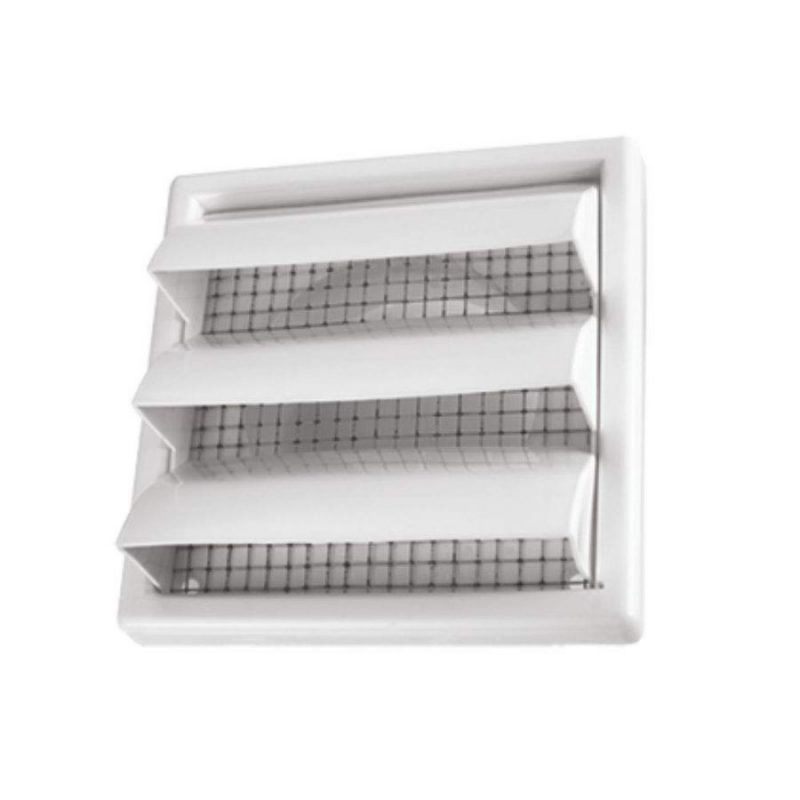 The ventilating fans offered by the trusted brand Kaif showcase a sophisticated design and are efficient to keep the rooms smelling fresh. Easy to clean body design, quick installation and power boost variations are some of the features of these classy products. The bladeless design of this exhaust fan makes it easy to remove smoke and odor from your premises. This product is a steel-gray shade that requires just 25 watts of power to perform.
Top Features
ABS plastic body with LED light.
The winding on the motor is 100%, pure copper.
full of energy.
Ideal for glass and concrete walls.
Built-in motor with thermal fuse protection.
Based on the parametric air extraction method.
Kitchen exhaust fans can be easily added to an existing kitchen, remodeled, or if you are building a new one. With our list of the best products on hand, you should have no trouble finding the right exhaust fan for a fresh-smelling kitchen every day.
The Orpat ventilation fan is a great product to lay your hands on. This brand is a very popular and most trusted brand in the market. He is known for giving out-of-the-box ideas. It is worth considering if you are planning to buy a product that will be able to maintain a fresh atmosphere in your kitchen.
This exhaust fan is quite sturdy in nature and sturdy in design. Since high-quality plastic is used to make its body, there is no chance of it rusting or rusting.
Unlike other products, it has a unique blade design and comes with a blade. This feature contributes to the high airflow. So you can be assured of fresh air at all times.
The internal fuse protection of this exhaust fan is highly durable. It comes with an inbuilt safety grille. It is also very easy to install and operate. It is also suitable to mount on a glass window – which is a rear feature and is not available in most of the products available in the market.
Top Features 
high-quality plastic
Easy to clean and maintain
heavy duty
high airflow
Unique 6 Blade Design
easy to install
Can also be mounted on glass windows
rustproof body
Price: Rs.825
This ventilation fan from Sameer is a versatile and incredibly affordable and budget-priced exhaust fan that comes in 2 different sizes of 150mm and 250mm.
Extremely noiseless in operation, the Samir ventilation fan, as mentioned, has 2 sizes to choose from. For small homeowners and those with comparatively small kitchens, a 150mm fan is the perfect fit. For families with a slightly larger kitchen, a 250 mm fan will feel comfortable. In addition, the 250 mm version is suitable for small restaurant kitchens with constant activity.
Apart from using it to remove odor from the kitchen, this fan is also very helpful in eliminating bathroom odor, small airborne particles, fumes, and excessive moisture.
While those are the wonderful aspects of this fan, it lacks the speed to make up for it. With no regulator toggle, there is likely to be less speed in operation of the many different shipped pieces. To avoid this, observe the operation for a few days before the return window is closed for better results.
Priced at a very affordable rate, this fan is efficient in its operation, minimalist in design, and most importantly, highly durable. Sameer also provides you a 2-year Manufacturer Warranty for any product manufacturing defects or malfunctions.
Top Features 
Suitable for kitchen and bathroom
Available in 150mm and 250mm designs.
durable body
minimalist design
2-year manufacturer's warranty

How to Choose an Exhaust Fan for Kitchen?
Most of us think that all exhaust fans are the same and work in the same way. But it is not true. Like any other appliance, you have to rule out a few factors before buying an exhaust fan. Below, we have mentioned several things to consider while selecting the best one as per your specific needs.
1. Size
A typical 12-inch (304.8 mm) sized home exhaust fan is good enough to blow out smoke and fumes from small to medium-sized kitchens of 10x9x8 cubic feet in size. Large size kitchen exhaust fans are suitable for commercial kitchens in restaurants.
The size of the exhaust fan in industries and factories is much larger than in common commercial premises or any restaurant. These are not wall-mounted but ceiling-mounted with completely different rotation ratios.
2. Blade Material
The construction material of the blades determines the longevity of the fan. Blades for exhaust fan come either
Metal
plastic
When it comes to kitchen exhaust fans, it is best to choose fans with metal blades as they are easy to clean and maintain. But the problem with metal blades is that they tend to rust or wear out. From time to time care has to be taken and cleaning has to be done from time to time.
Plastic blades are suitable for bathroom exhaust fans. Plastic blades are easy to install and light in weight. Compared to metal blades, they are also economical in pricing. But the durability of the plastic blade is questionable and one has to look for it
3. Air Delivery
It indicates the amount of stale air that can be expelled by the exhaust fan and is measured in m³/hr.
High-speed exhaust fans have better air delivery than normal fans but their energy cost is also higher. Typically, this information is mentioned in the product specifications or instruction manual.
But there is one major factor that most people overlook when it comes to drafting back a high-speed exhaust fan.
"Backdrafting" refers to the re-introduction of oxygen into fire or hot areas which is a possible event that could lead to two things.
fire hazards
Introducing Toxic Gases in the Bathroom
Backdrafting is a common cause of fire and biohazard increases in many public catastrophe events. Unless you are an industrial or restaurant worker, large exhaust vents with proper care and maintenance planned are not heavy and have high-speed exhaust fans.
For personal and residential use, always go with a noiseless and medium-speed exhaust fan.
4. Energy Consumption
High-speed fans consume more energy to run than normal exhaust fans. Choose a high-speed fan if you spend a lot of time in the kitchen or use it for commercial purposes. Or you can go with the normal exhaust fan.
5. Sound Level
A high-speed metal exhaust fan has a noise level of 74.3 dB while a regular exhaust fan has a sound level of around 60 dB.
Industrial use fans are fine with noise levels as most of the time they are drowned out and become redundant among the many types of machinery sounds around them. The same is the case with the large kitchen in the restaurant.
When it comes to residential exhaust fans, having a noiseless fan is a must.
6. External Guard
Most kitchen exhaust fans come with an external gourd or metal mesh that prevents accidental contact with the moving fan blades.
While plastic fans may not need this mesh entirely, it is important that metal fans have mesh to cover their sharp blades.
How to Install an Exhaust Fan?
Typically, an exhaust fan consists of a frame, motor, belt, and blades. To install an exhaust fan, you'll need tools that include pliers, testers, spanners, tape, and screwdrivers. First, fix the belt to the frame (4 sides). Carefully fix the motor between these 4 blades with nuts and bolts. Using pliers, make sure the bolts are tight and secured properly. After that, attach the fan blades to the motor. Now attach the capacitor to the motor terminal for the power supply. Finally, all parts of the exhaust fan get fixed. Now, fix the exhaust fan using a drilling machine.
Benefits of Kitchen Exhaust Fans:
Removal of air pollutants – Smoke, steam, and other toxic odors are removed which makes the air more breathable.
CONTROL TEMPERATURE CONTROL – The room temperature gets slightly warmer due to the heat being released from the running stove. They also provide the necessary ventilation which is essential for comfortable kitchen use, especially during summers.
What is the appropriate place to install a kitchen exhaust fan?
The best place to install the exhaust fan is on the wall (top section) where the stove will be placed. So, the smoke and heat produced will exit directly through the exhaust fan without circulation in the kitchen.
How to Clean a Kitchen Exhaust Fan:
There are many ways to clean kitchen exhaust. Basic methods include caustic chemical cleaning, hot water pressing, and refining.
Although cleaning different exhaust fans requires different structures or grooves, the basic process for cleaning a kitchen exhaust is the same. The following is a simple way to clean a kitchen exhaust fan:
Unplug the wiring connecting the fan to the power source
Detach the fan from its fixed position.
Unscrew all the parts from its sheath and mesh to the motor
Mesh:
Remove the mesh and set it aside.
First, pour hot boiling water through the filter
Take 3-4 liters of warm water and add half a cup of ammonia to it. Make sure you are wearing a face mask while doing this.
Soak the mesh in this mixture for some time and remove it to scrub and dip again.
Now after you have removed all the lint, fat, or grease from it, wash it another round in hot water
Now wash it again with cold water and let it dry
Blades:
For cleaning metal blades, you can use a sodium phosphate cleaning solution along with a safe face mask.
Otherwise, take a solution of soap and water. You can also add a cup of ammonia to it.
Add 2 tablespoons of baking powder and enough warm water to this mixture. Take care that the water is not too hot or boiling.
Now soak the blades in this mixture and take them out.
Wearing protective rubber gloves, scrub off grease, lint, and dust off the blade.
Dip it in the mixture again and then soak it in cold water for a while after the dirt is gone.
Keep the blade in a dark and cool place to dry
Motor:
Do not use water or anything wet to clean the motor. Instead, use a dry cloth and canned air to spray and remove dirt from it. Make sure you are not overheating the motor in the process.
One of the major problems with cleaning an exhaust fan is that grease, dirt, and lint require excessive scrubbing.
If solutions don't work, try using more concentrated caustic chemicals. Make sure you are wearing protective gear when doing this cleaning.
For faster drying, use paper or cotton towels.
After all, materials are dry and clean, fix the fan and reinstall it in its proper place. Before installing it, make sure you thoroughly wash its resting place with a broom or dry towel.
Tips and Important Points and Precautions
Exhaust fans may look like ordinary equipment but they can also be dangerous.
Home exhaust fans can catch not only dirt and grease but lint as well.
Lint is small and fine fibrous fabric material that can be blown into the air and trapped in exhaust fires.
In the event of back-drafting, excessive and rapid inward oxygen, when combined with hot air and the swelling nature of lint, can lead to a fire.
Make sure you are using a medium speed fan and not an industry class fan for housing
The higher the fan, the better the chances of expelling air
Research the type of fan needed for the kitchen and bathroom. buy them separately
After a 1 or 2 years warranty, keep changing to a better quality exhaust fan.
Frequently Asked Questions (FAQs)
1. Which are the best brand in India for domestic exhaust fans?
Usha, Crompton, and Havells are some of the most famous brands when it comes to fans in India. But at the same time, there are many emerging companies in India that produce and market better and better quality fans. Choosing the best, proper research and comparison is imminent.
2. How do exhaust fans help in ventilating a kitchen?
Exhaust fans work on the method of air re-entry. By creating small but powerful suction winds through the rapid rotation of the fan, exhaust fans suck up the local hot and humid air, throw it out and displace it from the outside to the inside with cool and clean air.
3. Can stovetop exhaust fans help in cooling a room?
One cannot directly say that exhaust fans can cool the room. On a parallel note, the main function of an exhaust fan is to ensure that it vents hot and humid air into the room. Thus it totally depends on where and how you install the exhaust fan.
4. Why is Capacitor used in fan and cooler but not an exhaust fan?
Fans and coolers operate on single-phase induction motors which need to be given a small kick to start. The capacitors in them give the said kick. An exhaust fan operates on a brushless motor and thus does not require any kick. Hence no capacitor.
5. Are exhaust fans required in laundry rooms?
No, they are not important. Conversely, placing an exhaust fan too close to a washing machine or areas with excessive clothing is not recommended as this can trap lint and accumulate slowly and pose some danger.
A Few Words before Winding Up …
Unsurprisingly an exhaust fan is one of the most important appliances in kitchens and bathrooms. That's why it's important to understand how it works, which is the best exhaust fan available, and more importantly, how to clean and maintain