1. Layered Palazzo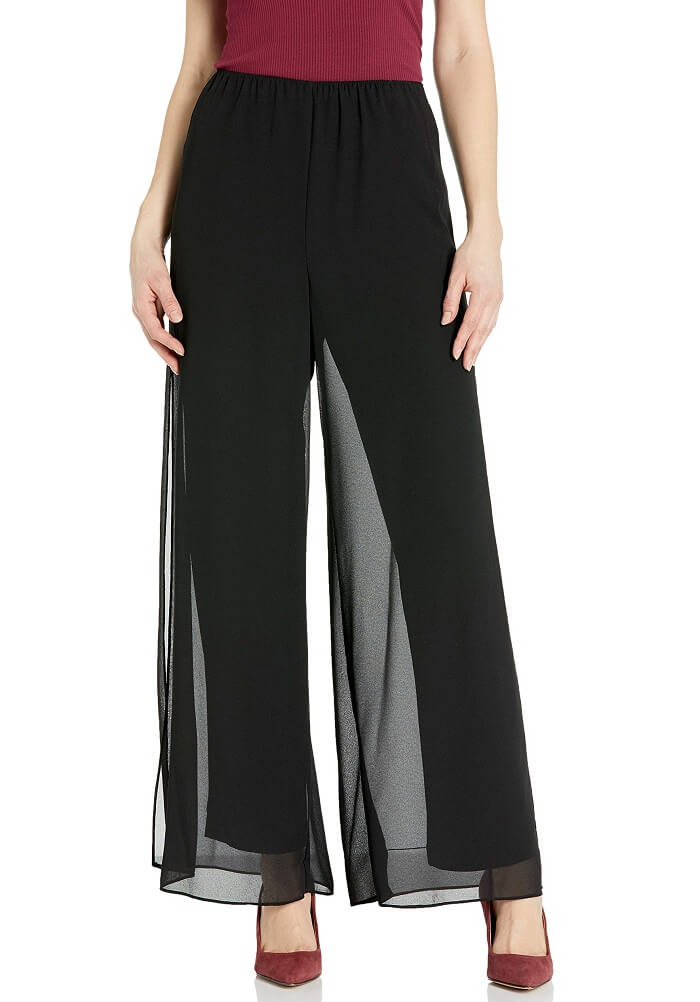 Layered Palazzo consists of two fabrics. This style is quite unique and offbeat. It is a perfect option to add contrast to your traditional wear.
Occasion: Casual, Summer
Goes With: Tops
2. Pocket Palazzo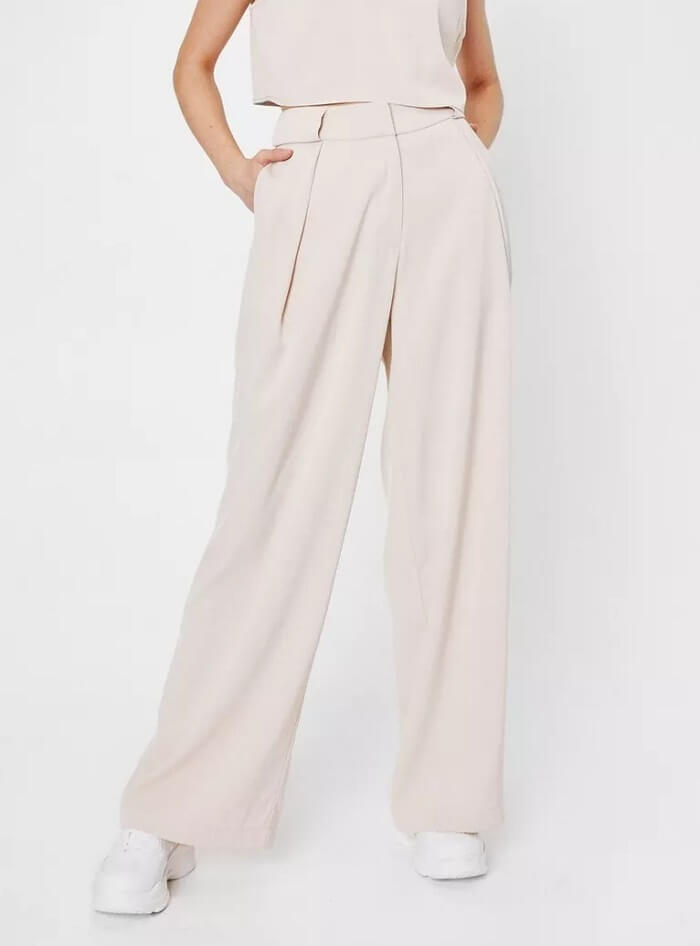 Pocket palazzos create a flair and come with pockets on both sides. These pants are flattering and will flaunt your style effortlessly.
Occasion: College, Semi-Formal, Outing
Goes With: Tuck-in Shirts, Waist Line Top
3. Denim Palazzo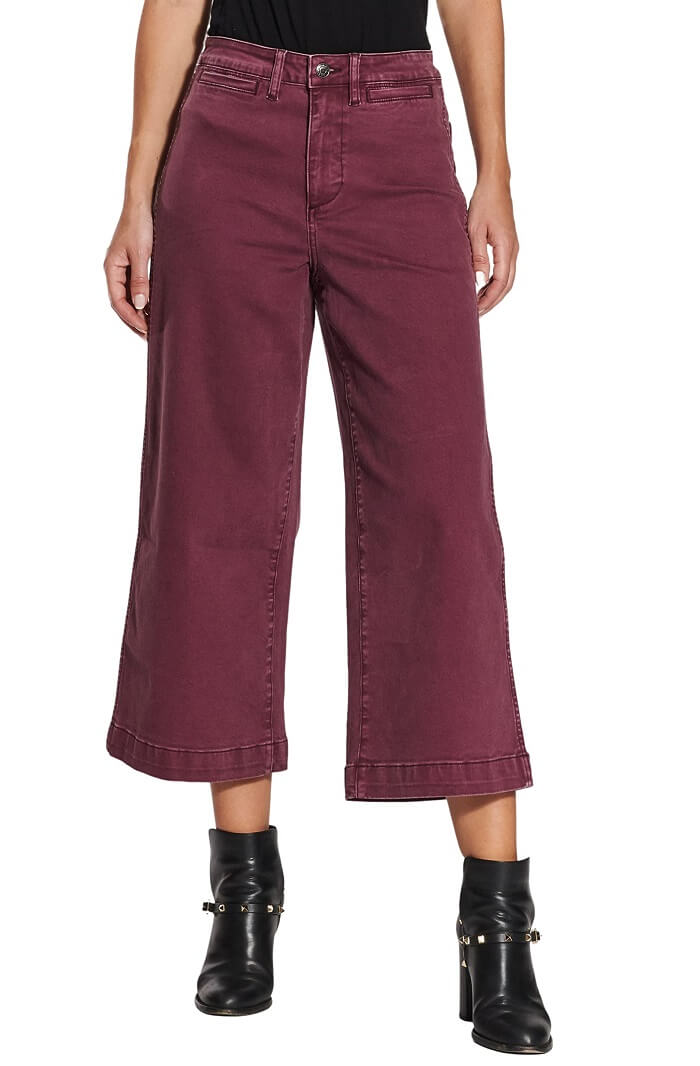 Denim Palazzo comes with comfort and is designed with denim fabric. The flare at the bottom makes the pant look attractive and is a perfect choice for styling.
Occasion: Casual, Hangout
Goes With: White Shirts, Printed Tops
4. Palazzo Pant Skirt
Palazzo pants skirt has more flare than normal pants which makes it look like a skirt. The designs send-up style details to contrast with the whole new look.
Occasion: Casual
Goes with: tank top, crop top
5. Tassel Palazzo
Tassel palazzo pants apart from being a pretty one also draw attention to the tassel of the pant. The distinct touch of these pants makes them a go-to choice for every woman.
Occasion: Casual, Summer, Beach, Bohemian
Goes with: crop tops, strappy tops, tank tops
6. Tiered Palazzo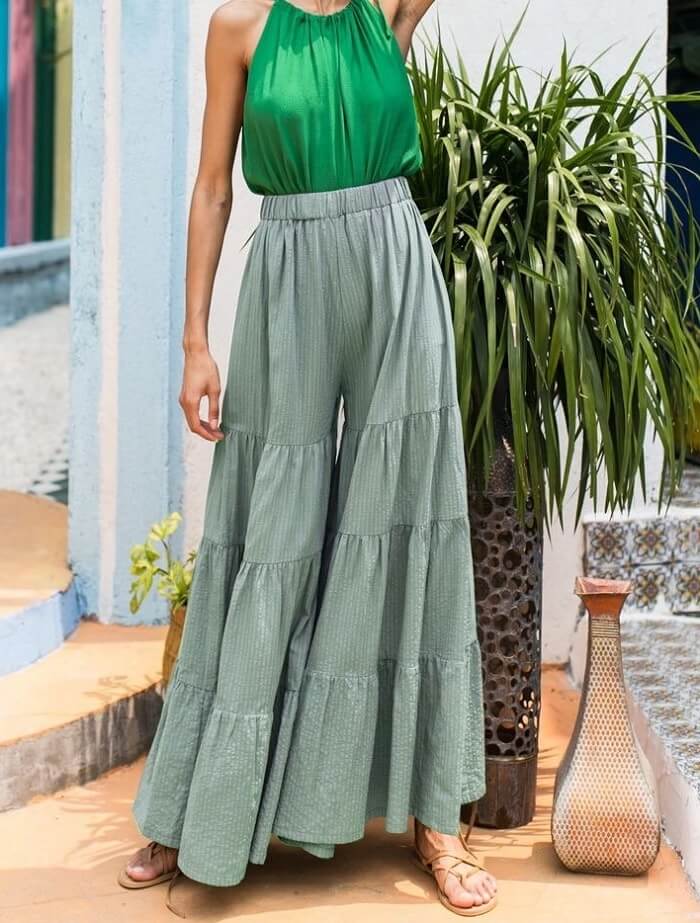 The tiered palazzo pants have a level-like design and flare at the bottom. This style adds more glamor to your top styles and there is an option to say yes because of its amazing fashion call.
Occasion: Casual, Beach, Summer
Goes With: Blouses, Tops
7. Formal Palazzo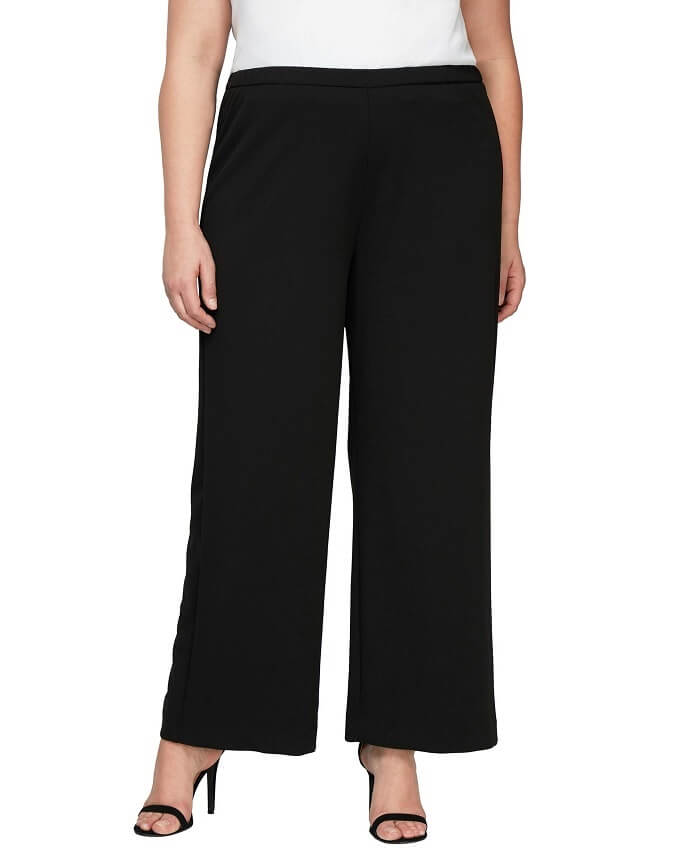 As the name suggests, the formal palazzo is designed to give an office look. They are a suitable choice for 9 to 5 bars and they give a sharp appearance without fail. Bring smart and look with this style.
Occasion: Office Hours
Goes With: Shirts, Hip Length Tops, Tees
8. Straight Palazzo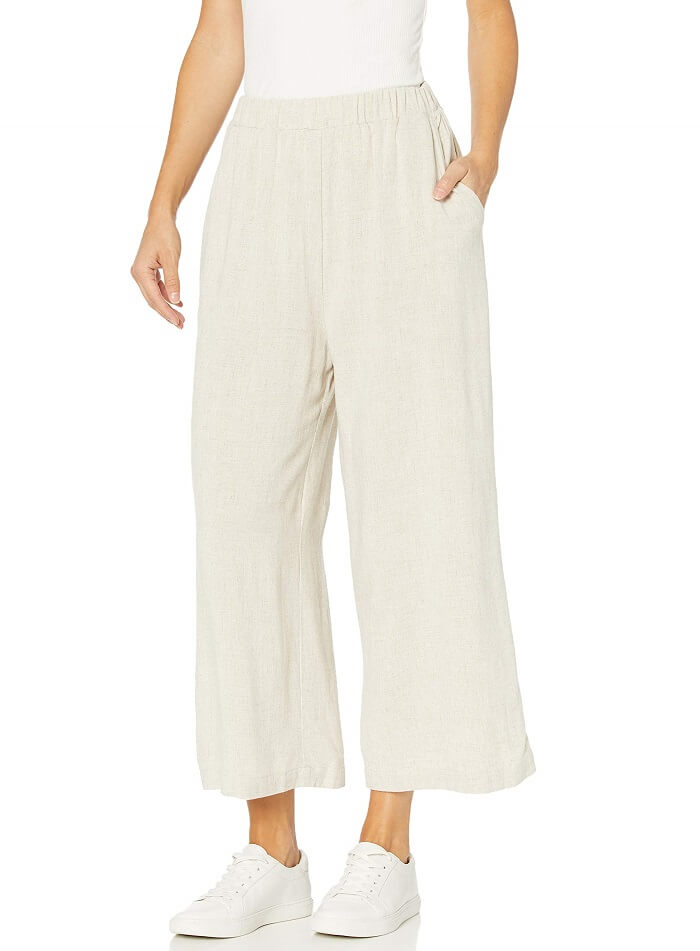 The straight palazzo pants fall parallel to the leg length with a flare in the end. They are a suitable choice to go with your A-line Kurtis or tunics as they swear to jazz up your traditional style with it.
Occasion: Summer, Casual, Daily Wear
Goes With: Tops & Tees
9. Tie Side Palazzo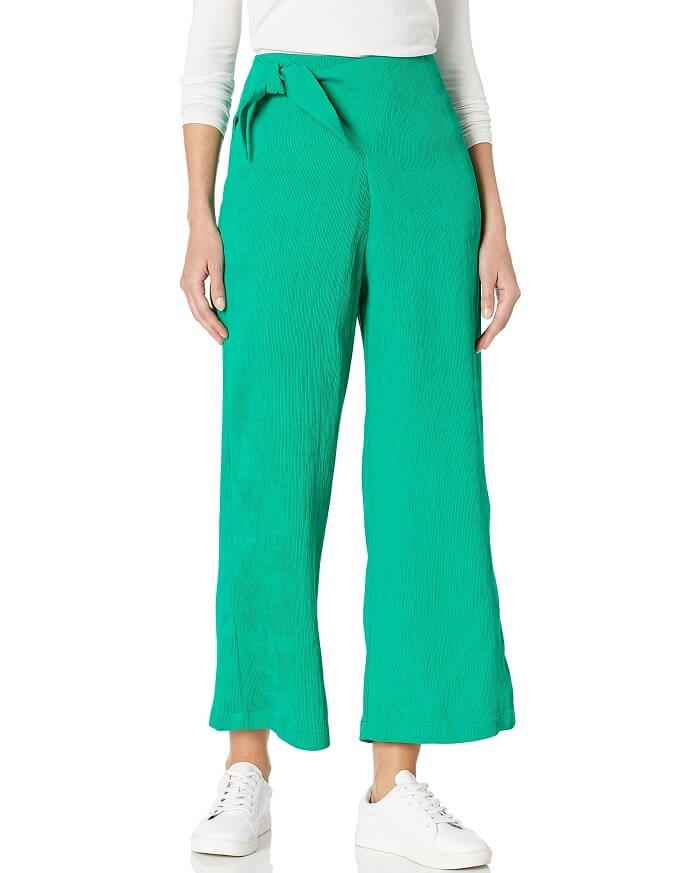 Tie-Side Palazzo has tie-ups just to add more to the style or to tighten the pants. The detailing of these pants gives the highly coveted casual look.
Occasion: Casual, Daily Wear
Goes With: Tank Tops and Tees
10. Belt Palazzo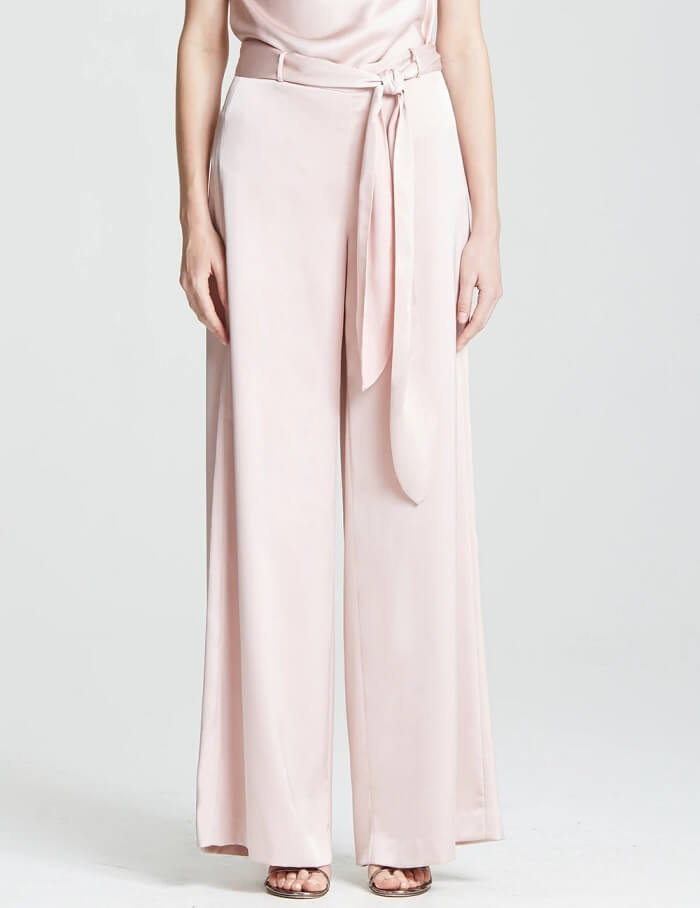 Belted palazzo pants are usually designed with a belt at the waist. The detailing looks trendy and is a trendy choice for decorating in fashion calls.
Occasion: Party Wear, Casual
Goes with: slim-fit tees, crop tops
11. Culottes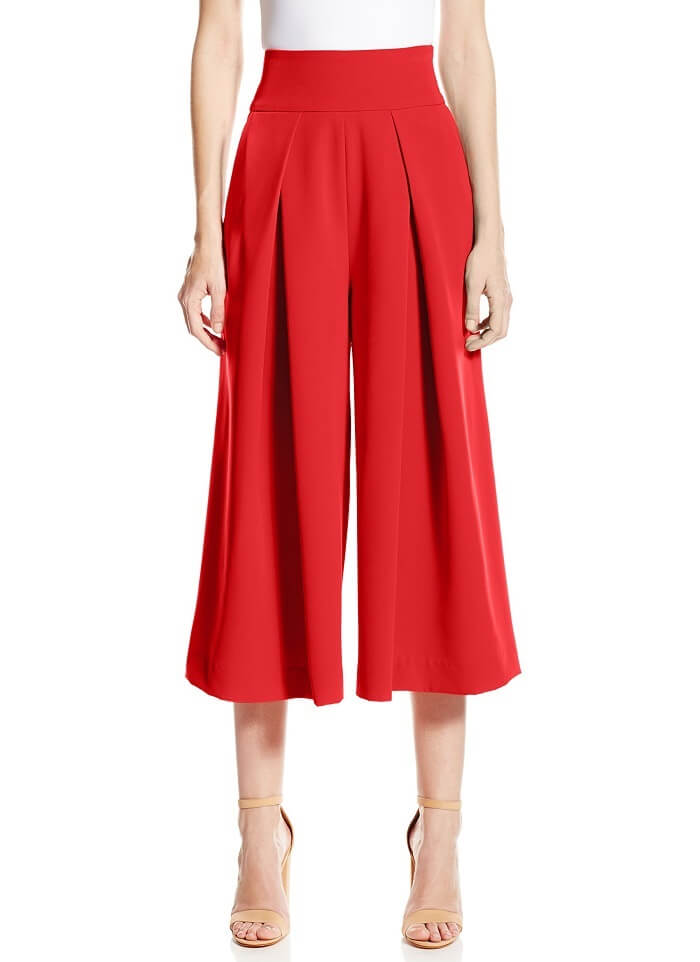 The culottes are shorter in length and have a gaudy design. The culotte pant features to present a contemporary look and also display trendsetting appeal. It's a decision-making method and a sure-shot-to-go style.
Occasion: Outing, College, Office
Goes With: Blazers, Tees
12. Foldover Palazzo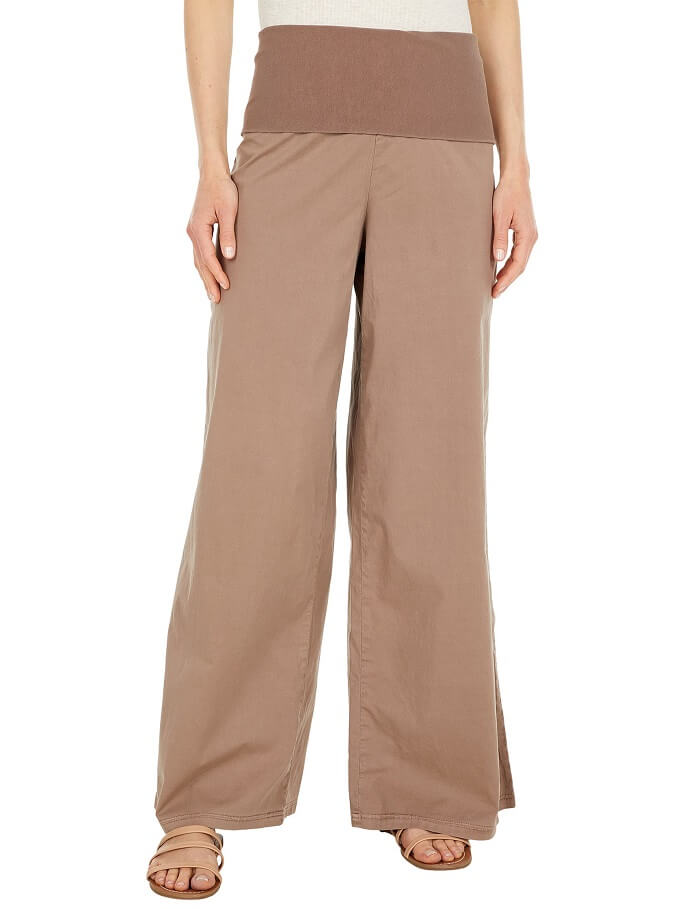 Foldover Palazzo Pants are designed with a fold. These palazzo pants can enhance your casual style point and it totally speaks for the subtle designs. Its modern touch is just the right feel for the look.
Occasion: Maternity, Lounge Wear
Goes With: Tees, Tank Tops
13. Double Layered Palazzo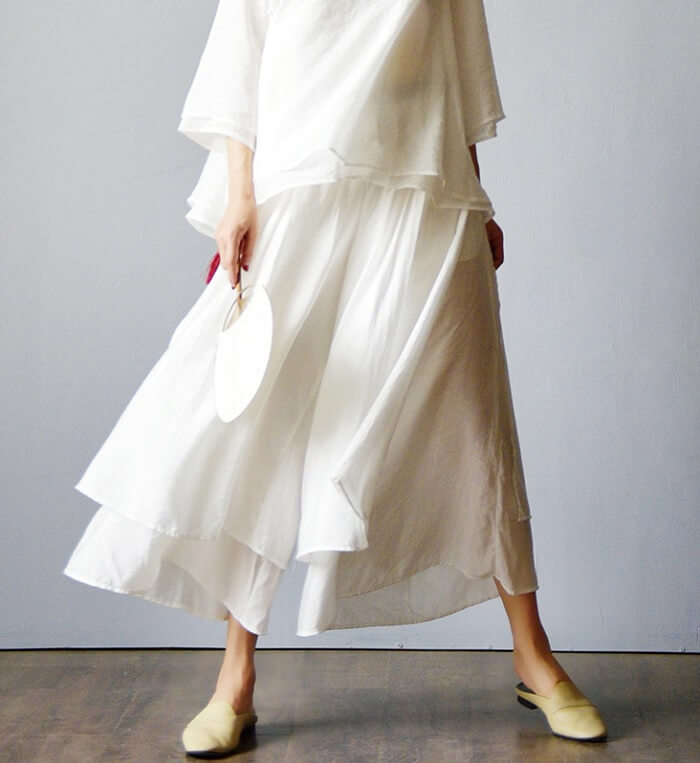 The double-layered palazzo pants are designed in two levels. The different lengths of these pants make it quite uber cool. Team this style with the right combination that offers a fabulous poised look in the end.
Occasion: Going Out, Party Wear, Casual
Goes With: Tuck-in Tops, Blouse
14. Flared Palazzo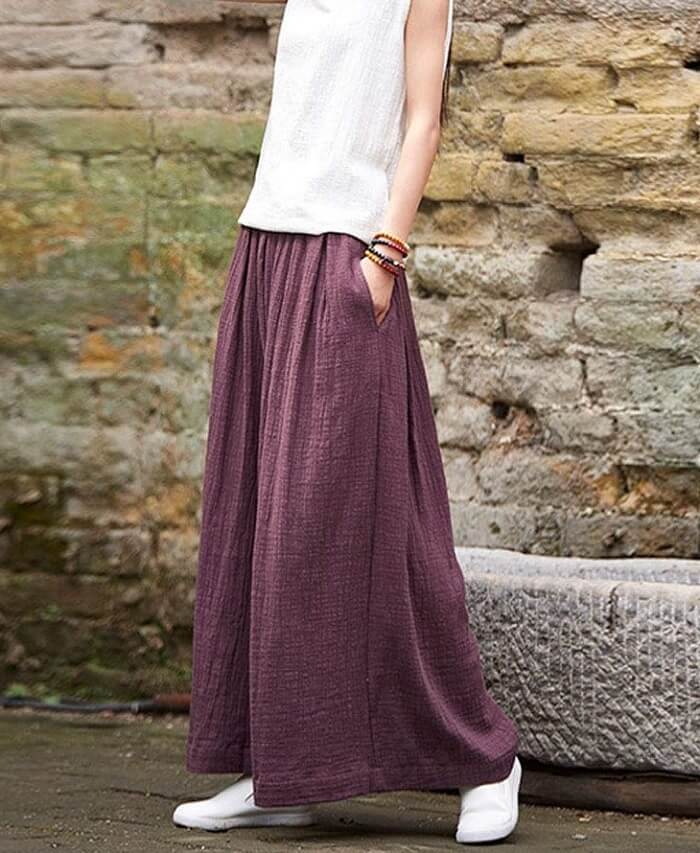 The flared palazzo has a fair flare that makes the pants quite breezy. These pants rule the fashion and the flowy design can add a spark of confidence to your look with its popular style game.
Occasion: Casual, Summer
Goes With: Tops,  Shirts, Spaghetti Top
15. Bootcut Palazzo
The bootcut palazzo is different in the style below. Instead of the gaudy design at its ends, it is a bootcut. These palazzos are comfortably chic and they unleash the inner diva with their wonders.
Occasion: College, Formal, Office Get-Together
Goes With: Shirts, Cropped Tees, Blazers
16. Bordered Palazzo
The palazzo pant with border has a borderline at the bottom. The pants are simple yet have finishing touch to them. Bordered palazzo pants will be with you.
Occasion: Casual, Special Occasion
Goes With: Spaghetti Tops, Slim Fit Tops
17. Drop Crotch Palazzo Pants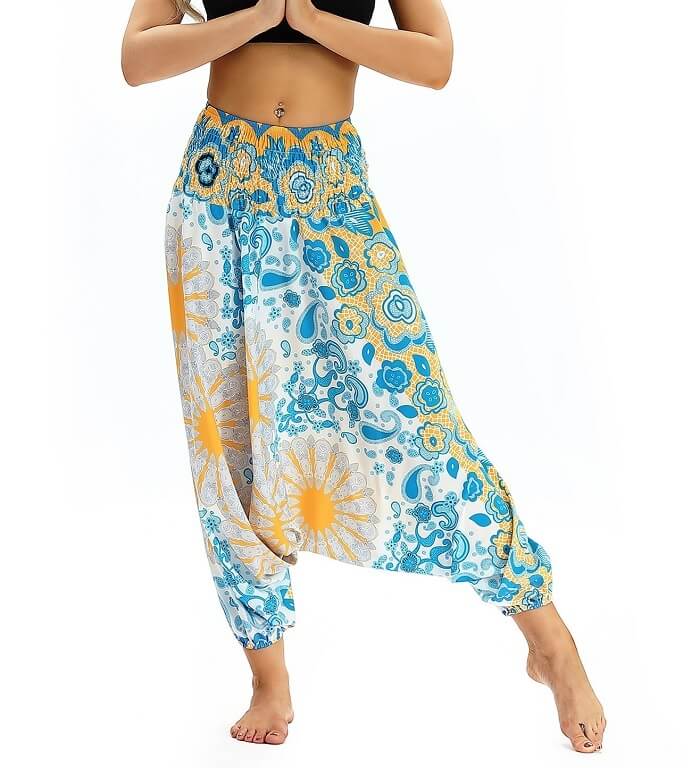 The drop crotch palazzo pant is slim at the bottom but flared at the top. Drop crotch pants are the savior for the club with traditional attire. They have the ability to attract attention.
Occasion: Yoga, Beach, Casual
Goes With: Crop Top
19. Ruffled Palazzo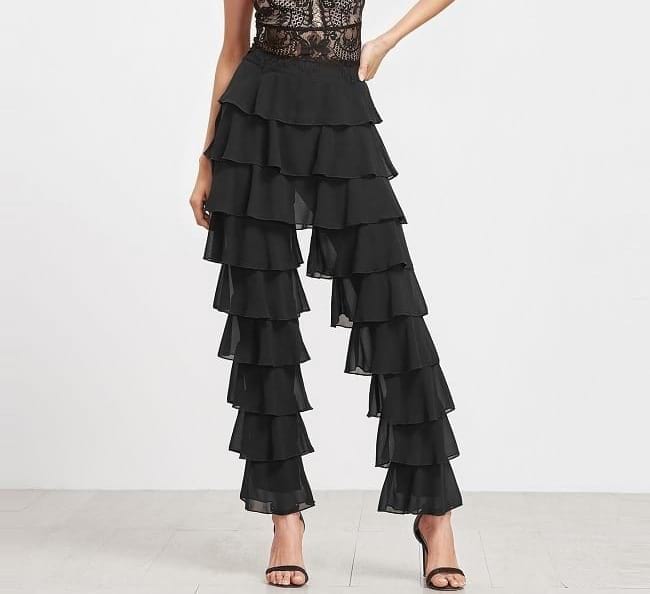 Want to add some drama to the look? Ruffled palazzo pants are your go-to for this combination. The style is irresistible and the range is quite delightful. A great choice made in fashion heaven.
Occasion: Parties
Goes With: Tuck-in Tops
20. Wrap Palazzo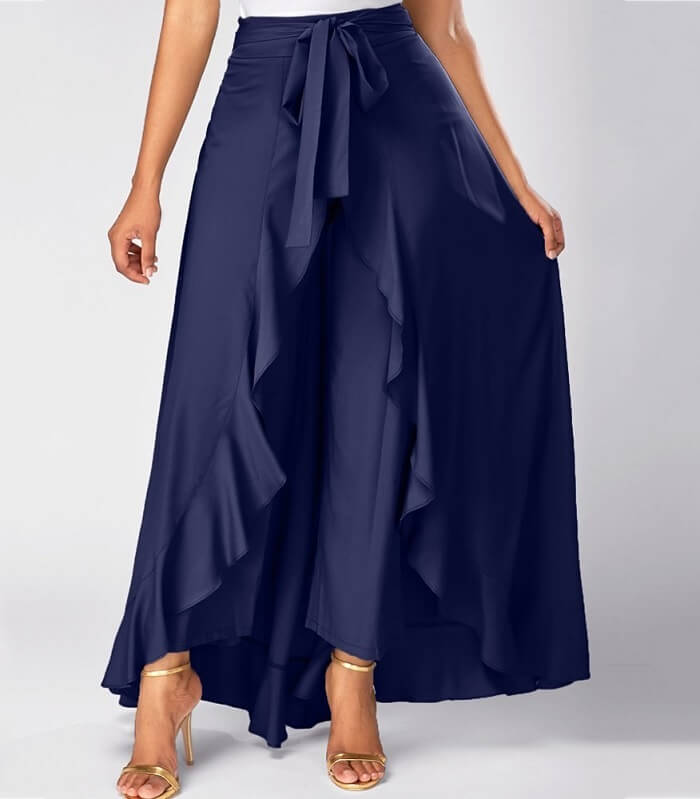 The Wrap Palazzo comes in two styles. The wrap design palazzo pants make a fashion-forward get-up and ensure a comfortable fit to always go with your outfit.
Occasion: College, Casual, Summer
Goes With: Button down, bralette, crop top, shrug
21. Pleated Palazzo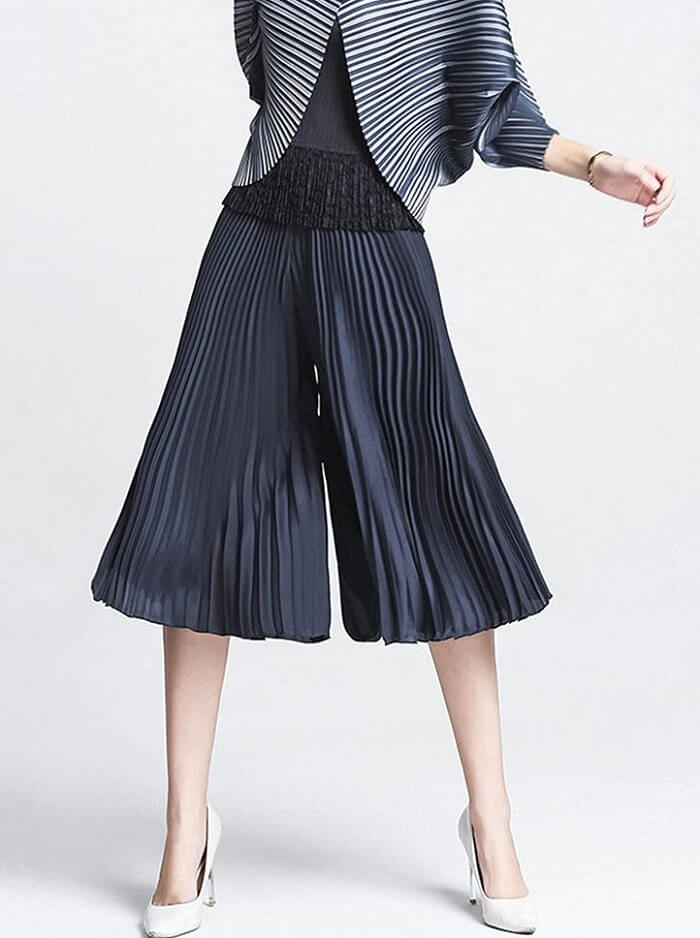 Pleated Palazzo Pants are structured with pleats all over the pant. They add a hammock to every step and wide-leg pants always add a little something extra to the look.
Occasion: Semi-Formal, Office Parties, Casual
Goes With: Blazer, Tuck-in Shirt
22. Tuck Palazzo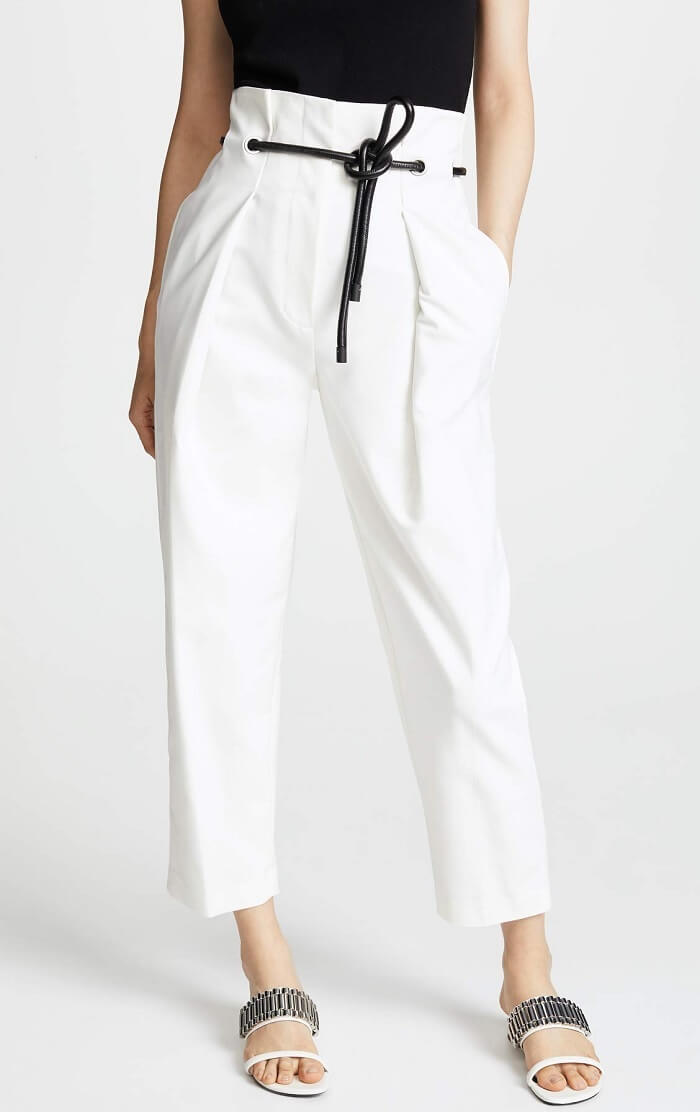 The tuck palazzo pants usually have a tucked design. It's a stunning piece that has decided to enter this season which is a comfortable choice. These pants are in vogue and when you wish to change your fashion game opt for this style.
Occasion: College, Casual Wear
Goes With: Tuck-in Tees & Shirts
23. Wrap-Front Palazzo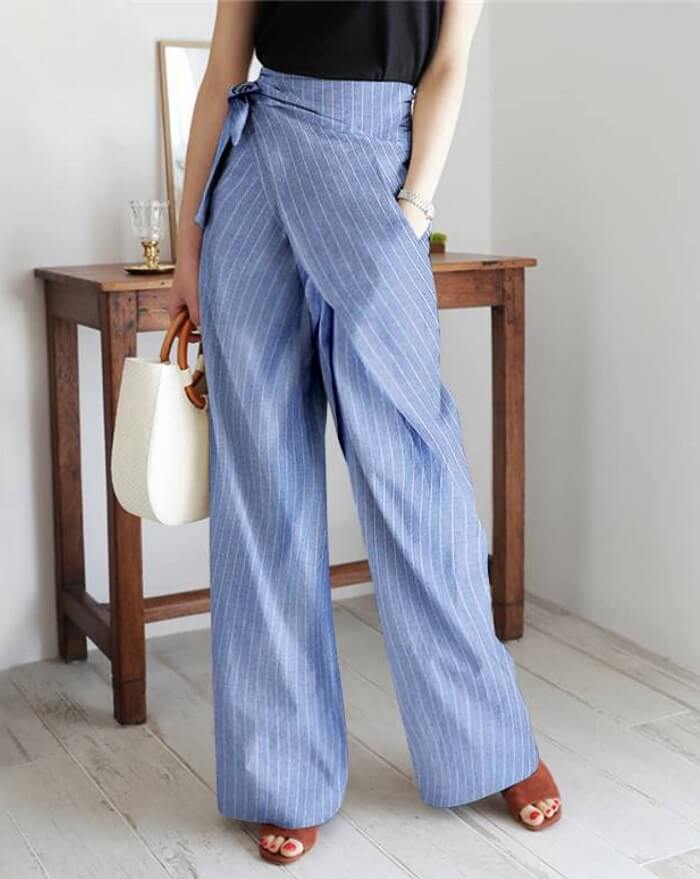 The wrap front palazzo pants have the wrap in the front rather than on the sides. These pants have a dashing appeal to them which has been a sensation throughout time. They are a perfect choice for dressy evenings.
Occasion: Office, Casual Style, Street Wear
Goes With: Tank Tops, Spaghetti Top
24. Side Slit Palazzo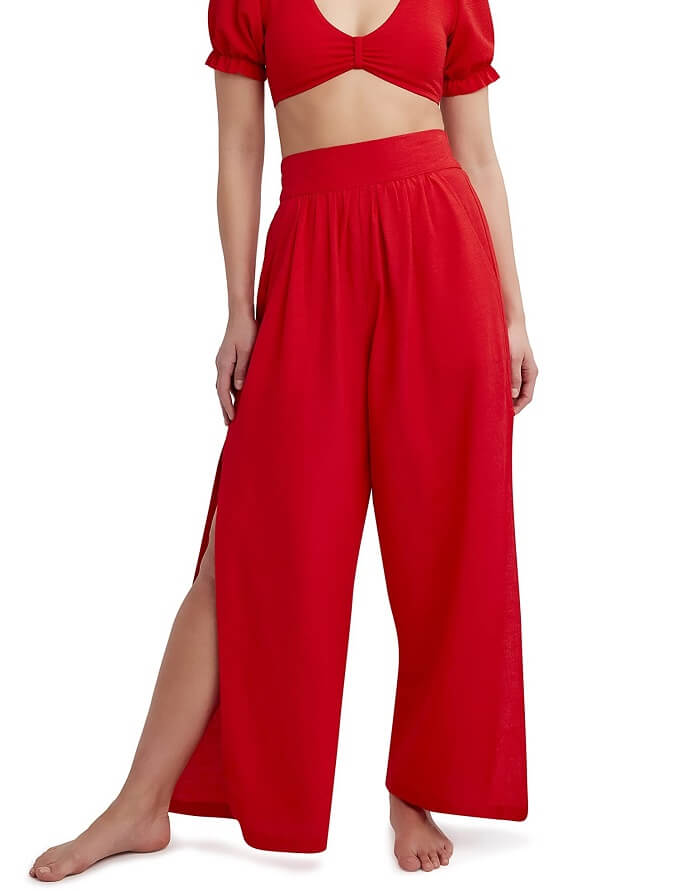 Infuse elegance in your style with side slit palazzo pants. With slit on both sides, these pants can inject a fashion dose to your look and the chic pair is up for your everyday look.
Occasion: Business-Casual, Going Out
Goes With: Shirts, Crop Tees, Blazer
25. High Slit Palazzo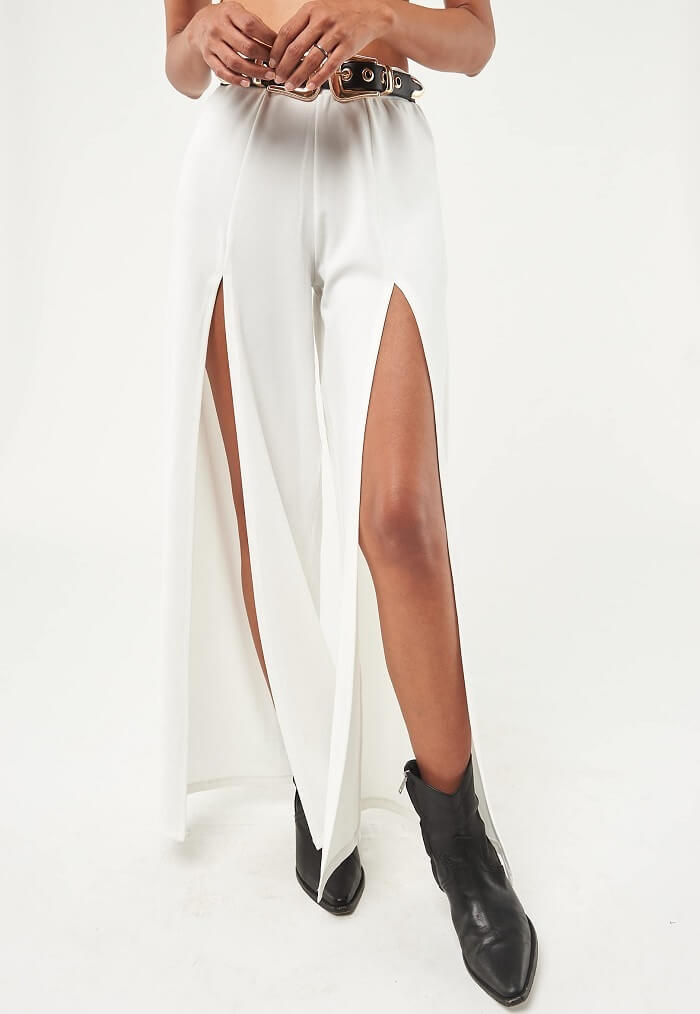 The High Slit palazzo features a thigh-high design. The slit on these pants is extended and it makes the legs look appear sassy. These pants add a modern allure featuring the design.
Occasion: Parties
Goes With: Button Downs, Bralette, Tuck-in Tops
26. Sheer Palazzo Pants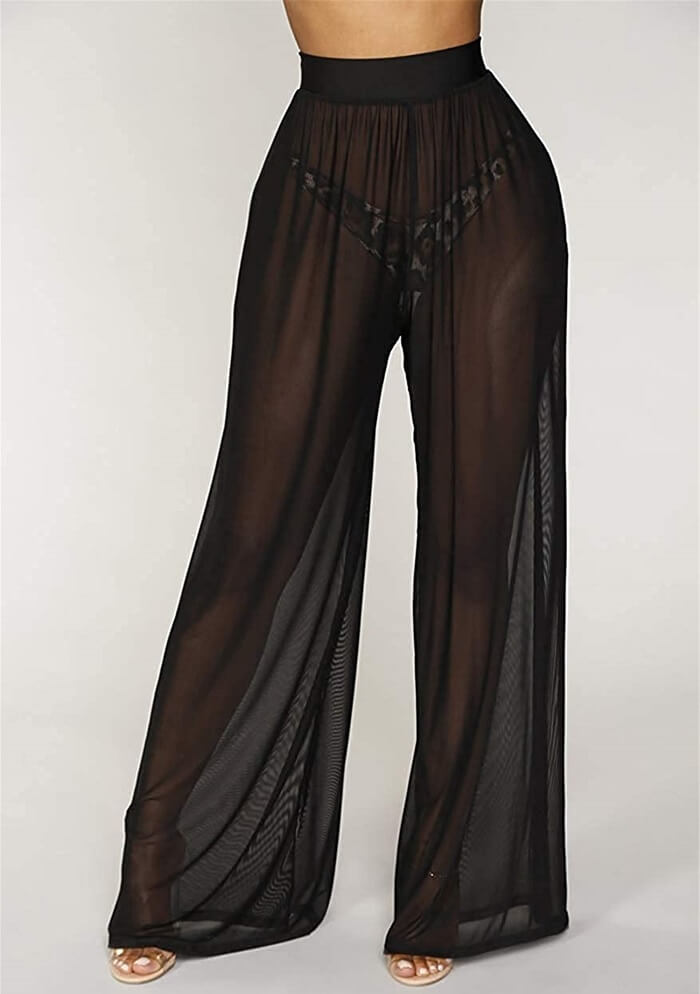 The sheer palazzo pants have a see-through and are made with transparent fabric. These pants add a sensuous touch to the look and are an apt choice for party nights.
Occasion: Parties, Night Out
Goes With: Bralette, Lace Tops, Halterneck Backless Tops
These palazzo pants are the keys to accentuating your fashion sense and adding some liveliness to your wardrobe. Own this perfect piece in this weather that ranges in fit and bold colors. The pants are chic and when worn well they can add a mind-blowing desire to the look.